Frank C. McGrew
1914 – 1986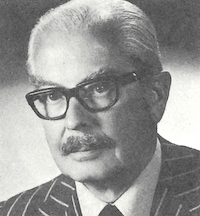 Frank C. McGrew, a former technical director in the DuPont International Department in Geneva, Switzerland, died at the age of 72 on Nov 20, 1986 in San Francisco where he was undergoing surgery for an aneurysm. McGrew joined DuPont in 1937 after receiving a doctorate in organic chemistry from the University of Illinois with Professor Roger Adams. He received bachelor's and master's degrees from the University of Nebraska.
His 35-year career with Du Point was devoted largely to polymer chemistry. Initially, he worked in several posts at the experimental station in Wilmington. He was then appointed director of the Polytechnics Department in 1950 and director of the division, then part of the Plastics Department in 1958. He was appointed director of technical and business analysis of the company's International Department in 1964 and worked at its headquarters in Geneva until he retired in 1972.
While at Dupont he played important roles in the development of Delran acetal resin and in the development of procedures for the conversion of butadiene to adiponitrile needed for the preparation of nylon. He brought to DuPont a strong emphasis on scientific understanding as a key component of industrial research.
He was an editor of Organic Reactions for volumes 6 – 10 (1951 – 1959), served on the Science Advisory Panel for the Army from 1958-1964, and was a civilian associate with the Office for Scientific Research and Development. McGrew was a member and councilor of the American Chemical Society and a fellow of the Chemical Society of London; he was a member of the Faraday Society, the Society of Chemical Industry, American Section, the Society of Plastics Engineers, the German Chemical Society and the AAAS. He was also a member of the Phi Beta Kappa Honor Society, Sigma Xi, and Phi Lambda Upsilon honorary chemical society.
He was survived by his wife Helga and two sons and two daughters.