Milán Uskokovic
1924 – 2015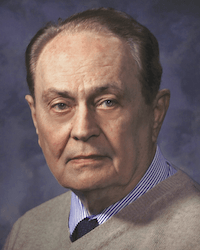 Milan Uskokovic got much of his early life experiences in the crucible that was World War II in Yugoslavia. He promptly joined and fought with the resistance from 1941 through the balance of the conflicts. During this time he developed his characteristic thousand-yard stare, clearly evident in the picture below from 1946.
On Saturdays in the 70's at his home in Montclair, NJ, over glasses of doubly-distilled slivovitz and ice, he recollected about the chaos of the times and remembered "fondly" a short stint in a German POW camp in early 1945 from which he and his colleagues escaped. They told their captors that the resistance was nearby and they would soon be rescued. During the following night, their captors fled. Milan was also involved in rescues of downed American airmen in 1943 and 1944 in resistance-controlled territories. See the published description of "Operation Halyard" in Freeman, G. A., The Forgotten 500, NAL Caliber (Penguin Group), New York, 2007.
With the ending of hostilities and the beginning of rebuilding his country in 1946, Milan returned to the Polytechnic Institute of the University of Belgrade where he obtained his Diplomate degree in Chemical Engineering. During this period Milan met, studied with, and married a fellow chemical engineering graduate, his beloved Nada.
As Yugoslavia was rebuilt, Milan and Nada worked for several small firms supported by United Nations reconstruction funds, and Milan later landed a manufacturing job in chemistry at Pliva Pharmaceuticals in Zagreb.
In 1956 Milan was awarded a chemistry scholarship for doctoral studies at Clark University in Worcester, Massachusetts. Thanks to the efforts of US Senator Leverett Saltonstall (R-Massachusetts) who arranged for Milan and Nada to immigrate to the US for continued studies. Milan carried out his graduate work with Prof. Ralph I. Dorfman on biologically important steroids useful in the amelioration of pain, lowering blood pressure and inhibiting contraception. He received his Ph. D. degree from both the Worcester Foundation for Biomedical Research and Clark University in 1960.
Nada and Milan then moved to NJ when Milan was offered a position at Hoffmann-LaRoche. Early projects included investigations of 9β,10α-retrosteroids related to dydrogesterone, 19-norsteroids and azasteroids for a variety of uses, as well as heterocycles in the CNS area. The studies on heterocycles followed the legendary CNS discoveries by Roche's Dr. Leo Sternbach of Librium® (chlordiazepoxide) and Valium® (diazepam) fame.
With Drs. Arnold Brossi and Willi Leimgruber, Milan helped create the Department of Natural Products Chemistry, and began work on a number of biologically active alkaloids including isoquinolines and the important anti-malarial alkaloids which also possessed useful cardiovascular properties. Beginning in 1970, Milan and his group announced several partial and total syntheses of racemic and optically active (-)-quinine and (+)-quinidine. In addition, a technical synthesis was created to convert cheap natural (-)-quinine into the antiarrhythmic agent (+)-quinidine which was marketed as the slow-release glutaconate salt Duraquin® / Quinaglute®.
A collaboration between the Walter Reed Army Hospital and Hoffmann-LaRoche led to the introduction of trifluoromethyl derivatives of quinine and quinidine and eventually to mefloquine for chloroquin-resistant strains of malaria. Mefloquine, later marketed as Lariam®, is used for both the treatment and prevention of resistant forms of malaria and is still on the World Health Organization's List of Essential Medicines.
The latter half of Milan's career was dedicated to the biology and chemistry of vitamin D and its potent and active metabolites. He became a leading researcher in vitamin D endocrinology and chemistry and authored or co-authored 71 US patents in this area. Milan helped move 1α,25-dihydroxycholecalciferol (1α,25-DHCC), known as Rocaltrol® (calcitriol), from preclinical synthesis through clinical trials and to the marketplace in less than five years. He and his group carried out the syntheses, and in some cases the structure determinations, of various vitamin D3 metabolites. These and other related analogs were used as experimental treatments of metabolic bone diseases such as osteomalacia, osteopenia and osteoporosis, as well as therapies for hyperproliferative diseases such as psoriasis, leukemias and lymphomas. As an outgrowth of treating dialysis-induced hypocalcemia, Rocaltrol® (calcitriol) was also discovered to have synergetic immunosuppressive activity with Neoral® and Sandimmune® (cyclosporin A) in kidney transplant patients.
Other highlights in Milan's career:
Authored or co-authored over 130 US patents
Elected Vice-Chair 1978 and Chair 1979 of the Gordon Research Conference on Natural Products Chemistry
Inducted into the New Jersey Inventors Hall of Fame 1994
Served on six advisory or editorial boards of professional journals including Organic Reactions
Member of the American Chemical Society and the New York Academy of Sciences
Adjunct Professor of Chemistry at Stevens Institute of Technology, Hoboken, NJ
Regents Professor at the University of California, Berkeley, CA
Research Mentor at the Medical School of Brown University – A laboratory at Women & Infants Hospital of Rhode Island, affiliated with the medical school of Brown University, dedicated in honor of his research mentorship
Vice President of Chemistry at Bioxell S.p. A., Milan, Italy, from 2002-2010
Milan formally brought his illustrious career to a close when he retired in 2010.
He was predeceased by his son, Charles Uskokovic, in 2011 and by his wife Nada Uskokovic in 2015, a month before his own death.
Milan is survived by his daughters, Moira Bogrov, M.D., and her husband, Michael Bogrov, M.D.; and Lila Vidger, Ph.D., and her husband, Donald Vidger, M.D.; and by his grandchildren, Samuel and Caroline Bogrov and Madeleine, Linnea, and Nicholas Vidger. He is also survived by his sister, Mrs. Vuka Markovic of Belgrade, Serbia.
Though an émigré from far away and a very different era, Milan always wanted to be known as a member of America's greatest generation. As I look across his entire career – warrior, patriot, scientist, creator of healing medicines – in my opinion, he succeeded.
John J. Partridge, Ph.D., MRSC – Chapel Hill, North Carolina