Robert C. Kelly
1939 – 2022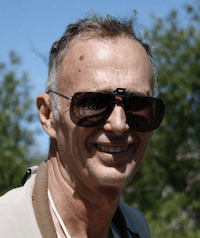 Robert (Bob) C. Kelly, an editor of Organic Reactions from 1988-1998, passed away on May 22, 2022. He was born in St. Joseph, Michigan on November 28, 1939, the son of Lester and Francis Kelly. Bob graduated Magna Cum Laude from Kalamazoo College in 1961 where he conducted undergraduate research with Professor Kurt Kaufman. Bob received a National Science Foundation Graduate Fellowship to attend Harvard University where he studied under the direction of Professor R.B. Woodward. After completing the first total synthesis of triquinacene (a theoretical precursor of dodecahedrane) and receiving his Ph.D. in 1965, Bob joined the Upjohn Company in Kalamazoo, Michigan.
Bob worked for the Upjohn Company and its successor companies in Kalamazoo (Pharmacia & Upjohn, Pharmacia, and finally Pfizer) for the next 38 years, retiring in 2003. Afterwards, Bob served as a consultant for a number of biotech companies. He was a life long learner who always enjoyed both physical and mental challenges.
During his long career at the Upjohn Company Bob typically worked on the most challenging chemical problems at the company. These were usually associated with the synthesis of natural products and their analogs. Early in his career Bob helped develop the Upjohn synthesis of prostaglandins which not only enabled the preparation of prostaglandin and prostacyclin analogs at the Upjohn Company, but also allowed the company to provide samples of various prostaglandins to researchers around the world when such precious compounds were in short supply. During this time Bob was part of the team that developed and published the now well-known Upjohn dihydroxylation process to prepare cis vicinal diols from olefins using a catalytic amount of osmium tetroxide and N-methylmorpholine N-oxide. Earlier procedures had used a stoichiometric amount of osmium tetroxide, a highly toxic and expensive agent which caused severe work-up problems, or else employed catalytic procedures which typically also resulted in side products from the over oxidation of the desired alcohols.
After his work in the prostaglandin area, Bob worked in cancer research at Upjohn for a number of years, again focusing on various complicated natural products. He first led the synthetic effort to prepare the novel and potent antitumor agent CC-1065, which had been discovered several years earlier at Upjohn, and its analogs. This work culminated in the first total synthesis of CC-1065 as well as ultimately three different clinical candidates, including at the time the most potent anticancer agent that had ever been published. Working with these highly potent anticancer compounds required the highest level of scientific skill and dedication to safety protocols. Later Bob worked on the semi-synthesis of taxol analogs resulting in a potent clinical candidate that was orally active. In subsequent years at what was by then Pharmacia & Upjohn (and Pharmacia), Bob worked in the infectious diseases area with an emphasis on the discovery of compounds to treat hepatitis C.
As might be expected given his chemistry expertise and determination, Bob rose through the scientist career ladder at the company becoming one of the few scientists at Upjohn to achieve the highest level as Distinguished Scientist in 1987. With each successive merger (typically resulting in new career path titles and levels), Bob was reaffirmed in his position at the top of the scientist career path. Bob also earned essentially every scientific honor at Upjohn, including the Upjohn Award (1973), the Fred Kagan Lead Finding Award (1986), and the Upjohn Award for Achievement in Science and Medicine (1988). During his career Bob had more than 80 patents and publications.
Bob was also active in the chemistry community at large. A 62 year member of the ACS, Bob was chair of the Kalamazoo Section of the ACS in 1973. From 1988-1989 he was a member of the nominating committee to select candidates for Chairman-elect and for the Executive Committee of the Organic Division of the ACS. Bob was also the Kalamazoo College Senior Independent Project (SIP) Coordinator for 17 years. The annual forum where seniors at Kalamazoo College now give their SIP presentations is named the Robert C. Kelly SIP Symposium in his honor.
Bob was also an avid outdoorsman, including enjoying fishing, hunting, backpacking, and sailing. He ran a number of marathons and played tennis until he was 80 years old. He was also an artisan, taking up basket weaving in his later years, creating works of art from scratch by felling trees himself and then fashioning them into wood strips for weaving.
As mentioned earlier, Bob looked forward to both mental and physical challenges. He was passionate, curious about nature, and highly competitive but at the same time a humble man and a good mentor. In many ways, Bob's life embodies the ideals expressed by Ralph Waldo Emerson: "The purpose of life is to be useful, to be honorable, to be compassionate, to have it make some difference that you have lived and lived well."
Bob is survived by his wife of 62 years, Sylvia Schaaf Kelly, his two children Sharon Sinton (wife of Mark Sinton) and Scott Kelly (husband of Patty Kelly), brother Dennis Kelly, and four grandchildren, Hannah and Helena Sinton and Stephen and Peter Kelly.
Paul A. Aristoff, Ph.D.
Fort Collins, Colorado
July 1, 2022